BOLOGNA LICENSING
TRADE FAIR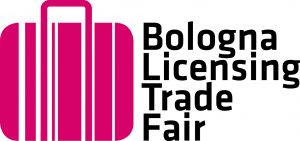 ---
BOLOGNA LICENSING TRADE FAIR #BLTF18
11th EDITION – 26th through 28th MARCH 2018
---
Bologna Licensing Trade Fair is the only licensing event in Italy and South Europe, and offers multiple services both to exhibitors and visitors. Meeting point for all licensing players, the event is intended for Licensees, Licensors, Licensing Agencies, Audiovisual production companies, broadcasters, distributors and buyers.

---
A unique service for exhibitors
Booking an exhibition space, the exhibitors will benefit, in addition to services, assistance and a free wi-fi connection, of the attendance to matching meetings with retailers, at the Licensing Retail Lounge, and with new licensees, at the Licensing Prospect Day. Moreover the exhibitors will be able to add, for free, all the details on the represented intellectual properties in the PROPERTY GUIDE, a unique instrument to present their brand to all visitors. Last but not least, the exhibitors will also benefit of a meeting room, including all the necessary audio visual tools, where they will be able to organize commercial meetings and exclusive marketing presentations.
---
A unique event for visitors
With only one ticket it will be possible access to all a series of events: three trade shows, Licensing, Digital & Media and Publishing, all the seminars organized by the Exhibition to present the latest news and to deepen the hottest topics in the licensing world. Moreover, through the PROPERTY GUIDE, visitors will know exactly all the brands represented by the exhibitors and will also have the access to the network lounge for their own business meetings.
---
Licensing Retail Day & Licensing Prospect Day
Starting from 2013 the trade show organisers have focused a peculiar attention on retail and licensees issues. The last edition of the show hosted over 60 retailers and 20 manufacturers who have never done licensing before, and were organised over 500 one-to-one meetings with the exhibitors. The Licensing Retail Day and the Licensing Prospect Day are structured into "speed date" meetings between selected retailers, in the first special event, and manufacturers, in the second one, and the exhibitors.
---
BLTF Events Programme
Three days packed of events, previews, focus on, seminars to be always updated on the latest licensing trends and novelties.
---
Features
1600 sqm exhibition space, 80 exhibitors, 800 brands represented, 3000 visitors.
For further information, write to
licensing@bolognafiere.it